---
Hauptinhalt
Topinformationen
NEW: emoTouch Web
emoTouch Web is a web based research system that turns any modern smartphone, tablet, or desktop computer into a versatile scientific research tool that can be used to rate music, videos or live events in 'real time' .
The project will run for three years from 2020 to 2022 and is supported by Carolin Scholle and Fabian Gehrs.
The development of emoTouch Web is funded by the program 'Kultur- und Geisteswissenschaften digital' of the Volkswagen Foundation and are available for scientific purposes free of charge.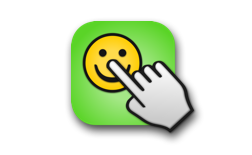 emoTouch for iPad (2013-2020)
The predecessor app emoTouch for Apple iPad is still available for free in Apple's iOS AppStore.
emoTouch Features
In an emoTouch session the participant can continuously mark his reactions to music or video played by the device or a live performance in one or two dimensions. As an example emoTouch can be applied for recording emotional self-report using the two-dimensional emotion space with its dimensions valence (negative – positive) and arousal (active – passive). For the first time, emoTouch provides a tool where the participant may intuitively touch the emotion space itself.
A lot of implemented features and options enable emoTouch to work as a suitable tool for numerous research topics:
user feedback options: a smiley or custom image to mark the position and a "worm", visualizing the just performed movement
mark special events (e.g. musical chills) with a special gesture
music and video selection from the device's media library
silent mode for rating live performances
configurable coordinate system with user-defined labels
limit the dimension to x- or y-axis only. In this mode emoTouch may work as a one-dimensional slider.
free choice of background images to adjust the design and scaling to your question, also as a (partial) overlay on the video
sampling frequencies up to 30 samples per second
replay mode for displaying recorded data in realtime, also several sessions/participants at the same time and optional visualization of mean and standard deviation
data export to a configurable text file that can be used with all standard statistic programs
emoTouch is only available in English, but provides options to change all the text that participants in a study will see, so any language can be used. emoTouch is a developement of the chair of systematic musicology of the University of Osnabrück (Prof. Dr. Christoph Louven, Carolin Scholle).
Version history of emoTouch for iPad
Version 3.2 (published 06.03.2020)
emoTouch is available again.
iPadOS 13 Support
Version 3.1 (published 16.9.2015)
The new Data Manager enables the user to export or delete the data collected in single sessions.
improved export format with single files fot each session
bug fixes
Version 3.0 (published 12.5.2015)
video mode: A video from the iPad's media library can be played behind the coordinate system.
The video can be overlaid with an image to show a custom rating scale.
beta-function: replay mode with video
show a webpage at the end of each session, e. g. for an additional questionnaire or a "thank you" window
offset for one-dimensional data recording so the axis can be at user-defined height
username is saved with an additional time stamp
Version 2.1.1 (published 13.10.14)
Data saving bug fixed.Data saving bug fixed.
Version 2.1 (published am 28.8.2014)
The smiley is now substitutable with custom images for normal and chill status.
The smiley and worm color in the record session is adjustable.New chill visualisationSmiley faces can also be shown in the replay sessions.
The session screen automatically adapts for horizontal, vertical or two dimensional mode.
Major improvements in the record and replay mode
Bug fixes
Version 2.0 (published 05.12.2013)
IMPORTANT: If the data recorded with the previous version are still needed, they have to be exported before the update!
iOS 7 support and Icon fitted for the new design
significant improvement of the programme structure and usability for the researcher as well as the proband
new designed main menu with more clearly laid out structure
The main menu is now invisible for subjects. This prevents unintended changes by the the subjects and makes the use of the software easier for them.
Changes in the options are displayed on the main screen right away.
new silent mode playing no music from the device. This mode can be used for investigating a live performance.
new Slider in the replay mode: The music and recorded sessions can now be paused, scrolled in time and restarted.
improved colours in the replay mode
correct presentation of chills in the replay mode
numerous bug fixes
Version 1.0.1 (published 02.07.2013)

Version 1.0.1. is the same that we showed on the 3rd International Conference on Music & Emotion (ICME3)in Jyväskylä/Finnland (June 11–15 2013).
dramatically improved replay worm that now shows average and standard deviation

added gesture (double tap) to mark beginning and end of a chill experience
improved data export bugfixes
Version 1.0 (published 04.06.2013)
Download background pictures and pointers for use with emoTouch
If you download the images to the iPad's media library, you can select them in emoTouch as background or user feedback images. Just go to the Menu —> Options —> Session Screen.
Contact: clouven@uni-osnabrueck.de